About us
Hey! We're a fully remote team, working on our plugins from all around the world.
In early 2013, our founder Danny was working as a freelance web developer and tired of having to reinvent the wheel every time he needed to add sign-up methods to a site.
That's why he set out with a simple goal: build a powerful tool that makes adding the most effective sign-up methods to your WordPress site easy.
Fast forward to now, almost 8 years later. The Mailchimp for WordPress plugin is running on well over one million websites. We're super proud of that!
That said, we are well aware that software isn't everything.
Although we invest a huge amount of creative energy into improving the Mailchimp for WordPress plugin itself, we also strive to make every interaction with us something to write home about.
Our Team
Interested in the people behind the plugin? This is us!
---
Danny van Kooten
Founder & Developer
Danny has been fiddling with code ever since he got his first computer at age 6. Now in his 30's, he still dreams about code at times.
In his spare time, Danny likes to spend time with his daughter, listen to music, attempt to play the piano, go for a long run, sail a dinghy or sleep.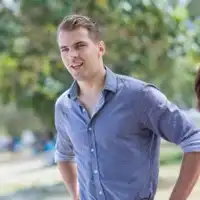 ---
Harish Chouhan
Support Engineer
Harish was one of the first people to test the plugin when Danny was building the first version back in 2013. He has been working alongside Danny & Arne for over 5 years now, answering your questions or improving our knowledge base articles.
With Harish' eye for detail, nothing goes unnoticed.
---
Arne Lap
Support Engineer
This is Arne, an experienced techie with a broad range of interests. His hobbies range from technology to archery to lockpicking to nature.
Most of his time is spent taking the best possible care of our users and doing various nerdy stuff. Chances are that if you've emailed with us – it was Arne providing you the answer to your question.