Breaking backwards compatibility in version 3.0
We're a few weeks out from releasing the biggest update to Mailchimp for WordPress ever, dubbed "The Big Three-O" internally.
Version 3.0 is a major revamp of the plugin, containing many improvements in just about every aspect of the plugin. It's been 3 years since we launched the first version of the plugin and we, as a team, learned a lot since then.
We wanted to take all this knowledge and use it to build a better product, a solid base to build upon in the next 3 years. That's where we believe version 3.0 comes in.
Choices..
We are big believers in preserving backwards compatibility, especially with the way that WordPress handles updates. It should not be that easy to install an update which breaks stuff on your site.
However, always preserving backwards compatibility means that every (possibly bad) choice is there to stay. With every major change, you have to keep the vast amount of configurations out there in mind in order not to break anything.
This can end up in dragging you down, preventing you from truly improving your product.
Breaking backwards compatibility, we will
We've never broken backwards compatibility in the past, but this time we will. Not just like that though. We came up with a way to ask you before updating to version 3.0.
The important thing is that if you choose to stay on the 2.x branch of the plugin, we will keep shipping bug fixes or security updates to you (if needed).
How this will work
As soon as we push version 3.0 of Mailchimp for WordPress to the WordPress.org plugin repository, the following notice will show up in your WP Admin.

Our upgrade guide will show you a clear overview of the changes and which manual actions may be required in order for the plugin to keep working as it is.
In the majority of cases, no manual action will be required. We have upgrade routines in place for everything that can be done automatically.
Let's do this
In the next few weeks, we'll be finalising "The Big Three-O" so it can be released in the first week of December.
Curious what it will look like? Here's a minor preview of the new interface of the page where you edit your sign-up form.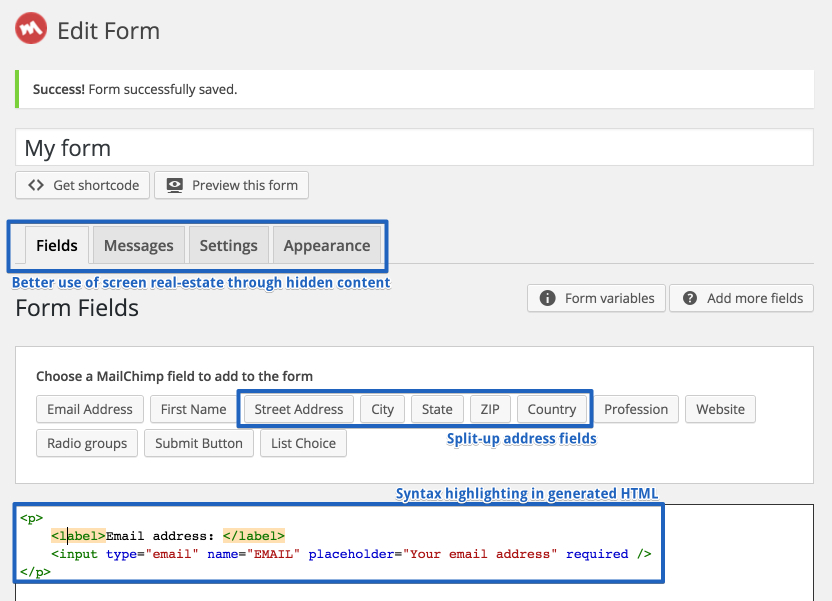 Should you want to know more about the upcoming changes, please tweet us, send an email or open a support ticket - we'd love to tell you more. We'll definitely be showing off a little more in the next few weeks as well. :)