When running the latest Mailchimp for WordPress Premium plugin and were using the e-commerce integration for WooCommerce, you will be asked whether you're ready to switch to Mailchimp's newest API.
Please be aware of the following important changes before switching.
All e-commerce data has to be synchronised again
The new Mailchimp API does not use the same data as before. You will be taken through several synchronization steps to get your latest WooCommerce product, order & customer data in Mailchimp.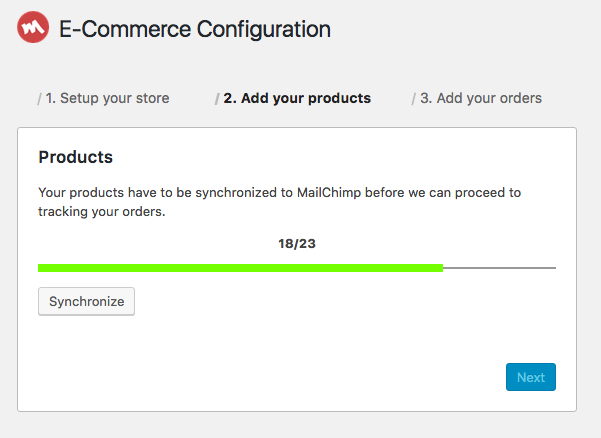 Temporarily pause your automations before synchronising your order data to prevent emails from being sent.
After completing the 3-stepped wizard, go through your list segments & automation triggers in Mailchimp to verify things are working as they should.
E-commerce data is now tied to a single Mailchimp list
Previously, e-commerce data would be available for all Mailchimp lists in the connected Mailchimp account. Mailchimp changed this so that you now have to specify a list for your store.
Before sending your products & orders to Mailchimp, you will be asked to select a Mailchimp list to connect your store to. Only that list will have access to the e-commerce data that is sent to Mailchimp.
Easy Digital Downloads support is discontinued
Relatively few of our users use Easy Digital Downloads. Because of the vast amount of changes that needed to be done, we focused our efforts on providing the best WooCommerce integration there is. The new e-commerce integration does not work with Easy Digital Downloads as a result.
Easy Digital Downloads users can keep using the older e-commerce integration or switch to the EDD – Mailchimp add-on plugin.
Why should I switch? This sounds like a lot of work.
Because updating to the new e-commerce API will give you access to cool new stuff like product recommendations and abandoned cart recovery.